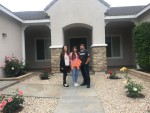 Karah did an amazing job, both with the sale of our home and the smooth process of helping us with the purchase of our new home. Although we lived quite a bit away, she would take the time to drive out and be there for us. Great communication and care went into both the sale and purchasing processes, which made it a lot less stressful.
She is dedicated, easy to work with, patient, and knowledgeable....everything you want from an agent. Karah and her team (Dennis Findly) took great pride in the job they did for us and we couldn't have been more pleased. If you are looking for an awesome agent, we highly recommend Karah.
Read Less
Karah did a fantastic job assisting me in finding a home. I was not easy to please and it took over 10 months to find a property that fit what I wanted. But Karah and her colleague Dennis Findly did it and helped me find the home I was looking for!!
Karah would drive out 45 minutes to an hour one-way on a Saturday and sometimes the next day, Sunday to help me find my home. She had the patience and right attitude during the entire process. She took the time to become knowledgeable about the different areas of the city that had different property tax/mello roos assessment amounts so that I did not get stuck paying high yearly property taxes due to high assessments.
I was very pleased with the level of professionalism Karah showed through the entire purchasing process. Bottom line, Karah cares!!
Karah made selling this property a top priority. She went beyond expectations with advise, research, and more. She actively marketed with open houses, and flyers. Great communication and customer service. She watched carefully over the transaction through closing and made sure it went smoothly. Wholeheartedly recommend her and will definitely use her again.